Movie Review : Phantom Thread
Hang on for a minute...we're trying to find some more stories you might like.
When I first heard the film title Phantom Thread, I assumed it was going to be a spooky rendition of Phantom of the Opera set in a high fashion house. When I read the IMdB blurb, I was more confused, and fully prepared to discredit the movie as a dark thriller that would keep me up all night (I am terrified of everything). When I finally got around to watching the trailer, my confusion grew even more. Instead of a haunting thriller, I was picking up vibes of a neo noir period piece with romance mixed in. My interest was piqued, but not enough for me to actually sit down and watch a two and a half hour piece of cinema.
Months passed, I consumed more movies, and Phantom Thread was the furthest thing from my mind. But, alas, as I renewed by HBO NOW subscription in preparation for the final season of Game of Thrones, I stumbled upon director Paul Thomas Anderson's eighth film once more. I was being haunted by the Phantom.
To get the most out of my $14.99/month HBO NOW account, I decided that I better see if there were any good movies being offered. Right up top, in the list titled "Last Chance: Movies Leaving This Month" was Phantom Thread. With an elusive cover featuring Daniel Day-Lewis's menacing head superimposed behind a young woman standing elusively in a high fashion dress, the movie's aesthetic further fueled my cautious interest. The list title, cover design, and  the fact that I had been intrigued by this movie and its acclaim for some time, finally was enough to overcome my activation energy and push me to watch the movie.
To summarize my feelings over this decision I will say this: taking risks (as if this was in any way a risk) once in a while sure pays off.
Phantom Thread is a gorgeous film. It is a quite, gorgeous, understated rumination on love, complications, and mental health. Director Paul Thomas Anderson casts a spell wrapped up in the finest fabrics that The House of Woodcock could offer.
The film, set in post-war London, follows Reynolds Woodcock (Daniel Day-Lewis), a middle aged fashion designer, as he discovers his newest muse, who quickly becomes his lover and obsession. Alma (Vicky Krieps), Woodcock's muse, quickly cements her position in the House and greater world of London high fashion. Cyril (Lesley Manville), Woodcock's sister and business partner, keeps watch over the two lovers.
The description does not do the film justice. To fully appreciate this story, at least one watch is necessary.
The triangular relationship between quiet and imposing Cyril, particular and planned Reynolds, and strong-willed Alma comes to a head multiple times throughout the film. Reynolds and Alma alternate between rage and passionate romance at breakneck speed. These relationships are accompanied by an intersectional tapestry of opulent setpieces, spell-binding acting, and a luscious score.
Phantom Thread is supposedly Daniel Day-Lewis's final bow in acting, and he departs the world of cinema with a perfect performance. Managing to capture both the charmingly perfect exterior of Reynolds, and the threateningly meticulous undercurrent of the character makes Day-Lewis's  performance strikingly memorable. Krieps and Manville round out the main cast, and match Day-Lewis at every step of the way. Manville's Cyril has biting one-line responses to the antics of both Alma and Reynolds and carries the bitterly-warm face of The House of Woodcock throughout the movie. But, perhaps it is Krieps who steal the show. Her character consistently keeps up with the striking dialogue that Manville and Day-Lewis deliver, and it is doubtful that a less experienced actor could have held their own in this part. Krieps managed to capture both the "imposter-syndrome" side of Alma, as well as the side that discovers that under all the perfection and glamour of Woodcock, there is something deeply fragile, something she can love.
The movie is ambiguous in its search for a moral center, and it is right to take that approach. Unsettling actions by the lovers Reynolds and Alma leaves the viewer with a questioning sense of romantic relationships. The final scenes shows a positive future dreamed up for the couple, but it is obvious that this will never happen, and that the relationship between Alma and Reynolds with continue to be somewhat toxic (literally poisonous) well past the time we see their story end.
Perhaps Phantom Thread is meant to force the viewer to examine the lengths that their own relationships go to "make it work", or perhaps it simply just a movie that is about lovers, albeit complex ones, that can show us all the variety of ways in which people kindle romance.

About the Writer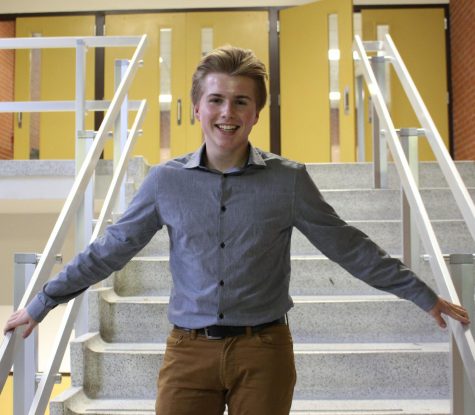 Quinn Soltesz, Entertainment and Features editor
Quinn Soltesz is the features and entertainment editor for The Stampede. He has been on staff for two years and this is his first year as an editor. Quinn...