Band, orchestra, choir members perform in statewide ensembles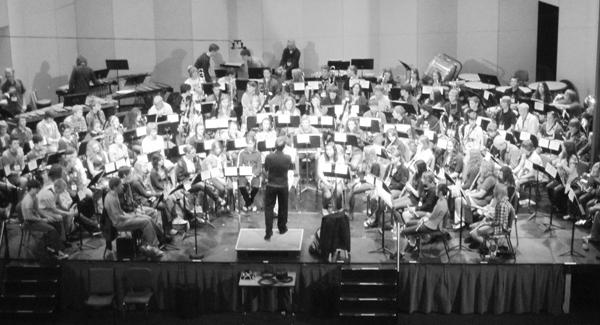 The top music students from all over Montana converged together to perform at the 2010 All-State concerts Oct. 20-23. There were 15 CMR students from band, six from orchestra, and two from choir.
The young musicians where given a few practices together before the finale, all practicing before had to be done individually without the luxury of hearing or knowing the other players or parts.
"You are forced to interact with people from other schools," All-State band member Jake Henneford said. "Everyone tries to help everyone else."
Henneford describes it as a "good experience working with a big group that is so good."
And as a senior, he acknowleges that is was is "last chance."
Henneford made it to the event as a percussionist, "running around everywhere," playing vibes, snare, base drum, symbol, woodblock, and even a trashcan in which he accompanied the choir in one of their pieces.
Senior Leslie Bellwood, an all-state choir member, was among only two choir students to make the audition.
"It is amazing to think that you are part of a choir of around 150 fantastic voices," she said.
Bellwood's clinician (a person that works with small groups) was Dr. Sandra Snow from Michigan State University.
"She showed us so many new techniques to bring out our voices," Bellwood said, adding that their sigining was raised to a "new level."
"Do not be discouraged if you don't make it," Bellwood said. "All-State is a very worthwhile experience that is worth trying out for."
Other students that attended include Jim Allen, Matt Austin, Cole Bass, Larson Blake, Timothy Blystone, Clarke Ginger, Dylan Dahl, Tanner Gliko, Taylor Gold, Christopherm Gray, Erik Heikkila, GavinLawson, Jack Martinez, Cecily Meave, Austin Pabst, Brian Perkins, Tom Schaesser, Devony Smith, Keely Telleen, Sabin Vaira, and Joseph Walker.