CMR shop students attend statewide competition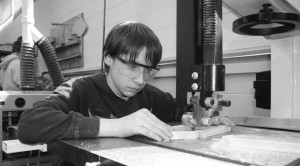 C. M. Russell High School senior Valorie Oldfield was one of nine Rustlers to attend the annual SkillsUSA competition April 11-13 yet she was the only girl to go from Great Falls and "was one of two girls in the competition."
However, this was no disadvantage, as Oldfield came away with the title of best drafter in Montana. During the summer she will be attending the national rounds of the SkillsUSA competition in Kansas.
Oldfield has been involved in drafting classes for three years and plans to continue in college.
"I'm going into mechanical engineering in college," Oldfield said. She will be attending Washington State University-Vancouver.
"I like the fact that you can put different objects on the computer and mess with them and play with them and have them still be the same project," she said.
For the competition, Oldfield drafted up a gyroscope and gave a presentation about it.
SkillsUSA is an annual statewide competition that tests students in the fields of carpentry, woodworking, welding, drafting, and auto shop. Three to four students from each of these areas are chosen to attend the competition. This year, students were accompanied by welding and machining teacher Paul Hogan.
Hogan said SkillsUSA is an "all hands-on" competition focusing on each of the students' areas where they build parts according to specific instructions and are individually judged.
For students to be chosen to attend this competition "they have to excel in their individual areas," Hogan said.
In addition to Oldfield's victory, senior Dean Stoller received second place in carpentry.
"They're very dedicated," Hogan said of Oldfield and Stoller. "And when they work hard and put in that much effort they'll do well."
All of the CMR students who attended the competition placed in the top 25 percent , according to Hogan.
"I'm just proud of these kids and the effort they put out," Hogan said. "They worked hard and deserved everything they got out of it."
Other students who attended the competition are Jaycen Cole, Marc Oldham, Travis Price, Eric Wilcox, Gavin McClain, James Bamfield, and Travis Owens.