Thespians to perform condensed works of the Immortal Bard for first production of season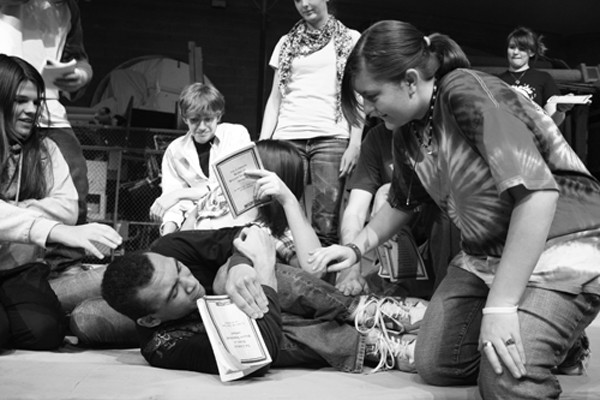 Traditional Shakespeare doesn't typically include puppets, raps, or Sean Connery as Macbeth, but CMR's drama department strongly believes that it should.
All of these elements will be present in the drama department's upcoming play, "The Complete works of Shakespeare 'Abridged,'"  is being performed Oct. 18-20. The production touches on every play Shakespeare wrote, and drama teacher Chris Evans said he is excited to portray Shakespeare in a new light.
"Shakespeare isn't this lofty thing to be held above everything else. Shakespeare wrote for us – the audience," Evans said.
Evans had to make minor changes in the script due to the fact that the play was written for three male actors. The number of roles was expanded to nine, five of which were given to women. He also said he had to update the script and make "little tweaks that the authors allow to make it friendly for the audience."
"It's an opportunity for them to be themselves, portraying Shakespeare," Evans said about the actors' chance to express their personalities through the play.
Although it's providing a platform for the actors to express themselves, it's a difficult play to learn. The actors have to memorize lines and be able to relate to the dialect Shakespeare used. Junior Emily Townsend is learning to do both.
"You have to know the language. It's hard to do that being used to modern language, but it gets easier with time," Townsend said.
With this particular production, the audience can experience every one of the plays that Shakespeare wrote without having to view the plays in their entirety.
"It condenses his plays and we can portray him in a more modern way. Since it's more modern and a comedy and it brings all of the plays together without having to perform the entirety of them, it makes it easier for the audience," Townsend said.
Evans said he wants to pay respect to the great playwright by showing people how entertaining Shakespeare can be. He said the performance deals with Shakespeare respectfully, but it also makes fun of his plays.
"It's just really funny and audience interactive. I want the audience's sides hurting from laughing so much."
The play will be performed from Oct. 18-20 and the show times are 7:30 p.m. on Thursday and Friday and 7 p.m. on Saturday. Ticket prices are $8 for general admission and $6 for students.