BPA students excel at regional competition, look ahead to state
Hang on for a minute...we're trying to find some more stories you might like.
CMR was abuzz with young professionals on Jan. 15 as they competed in more than 100 events at the regional BPA competition. It was a long day for students like BPA president Morgan Campbell, whose team arrived at 7:45 a.m. and stayed late into the afternoon. Campbell herself competed in five events, placing in three.
"They have seriously everything," Campbell said of the wide variety of offerings.
Campbell won Business Law and Ethics as well as Interview Skills. She placed fourth in Legal Office Procedures. Other notable efforts included fellow seniors Emily Birch, who won in graphic design, and Cece Grasseschi, who placed first in Economic Research Project (Individual).
"[Cece] wrote a seven-page paper on some economic topic and then presented it in front of a judge with a PowerPoint," Campbell said.
The competition was not limited to presentations. Campbell said students had the option of taking various "open tests" — assessments where anyone could walk in and sign up.
"An actual event would be one that tests your knowledge on a subject," Campbell said, citing Business Law and Ethics as an example. To prepare, she read portions of a textbook on the subject and took a practice test.
Birch's assignment for graphic design was to create a flyer for BPA Nationals in 2019. The competition will be held in Anaheim, Calif., so she used Disneyland as inspiration, Birch said. She also competed in Fundamental Accounting and will accompany her Financial Analyst team to state with a second-place finish. For Birch, the hustle and bustle of the day was enjoyable rather than detrimental.
"Even though you're kind of running everywhere to get to places, I think it's kind of part of the fun too," she said. "Especially when you can go back to where everyone is hanging out, like your whole team, and just like chill there for an hour or so or get prepared."
BPA students prepared for regionals two or three months prior to the competition. The club is flexible, Campbell said. Practices were held Sunday evenings and Wednesday mornings. Students who were unable to attend met periodically with their adviser, Jessica Goosen. With regionals behind them, Campbell is looking forward to state, which will be held March 11-13 in Billings.
This will be sophomore Amiya Williams' second trip to state. While she said she is more prepared this time around, she's also aware that it is "a whole new presentation, whole new stuff to prepare for."
She will take her individual Presentation Management presentation to state after earning first place at regionals. Williams also earned a group third and fourth place. Appealing to judges was a big part of her success, she said.
"Presentation and Management (Individual), that's the one where you kind of have to work hard on on your own time…and just make the speech part of it appealing so when you go in the room you're prepared," Williams said. "Getting even mentally prepared and prepared to go in there in front of the judges…judges see that when you walk in there."
Williams is particularly proud that the entire team made it to state.
"I just think that that's a great opportunity for all of us. I think it's going to be a really cool thing that our whole club gets to go," Williams said. "I think it also shows some other people maybe in the school that Business Professionals of America has some people in it that can really have some good opportunities going for them."
"We had some new members who did really, really [well]," Campbell said. "Even the new seniors. We had a really great group that pulled together this year and did well in a lot of events."

About the Writer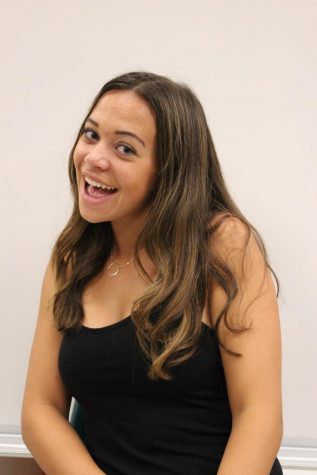 Mackenzie George, Editor in Chief
Hi! My name is Mackenzie George, and I am the editor-in-chief of the Stampede. This is my third year on staff and my second year as editor-in-chief. I run cross country and play tennis for the Rustlers. I have loved my time in room 326 but am excited to study English, communications, or journalism in...