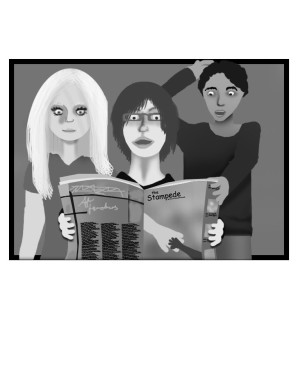 Oscar Wilde, a famous Irish poet and writer, once said, "In America, the president reigns for four years, and journalism governs forever and ever."
As a newspaper this year, the times have not been easy. There have been late nights full of stress, disappointments in errors, the difficulties of going out and finding people to interview, and much more. However, overall we believe we have accomplished the goal that Oscar Wilde spoke of: to cover CMR to the best of our ability.
Looking back, we have delivered hard hitting news to students, such as the trials of Jessie Hardin in Uganda, the illnesses that students struggle with, and the reality of the message in the play "American Roulette."
We've entertained our readers with opinionated movie reviews, stories about students' expressions, and the details of the lives of teen mothers.
We've lifted and supported many CMR sports such as basketball, football, and even fencing. To you as a reader, we hope that we have given the biggest gift of all: knowledge. If we've ever proved or disproved gossip you've heard in the halls, made you furious, made you joyful, or brought a tear to your eye, then we've done our job.
It's been a good year, but the work is never over for the Stampede. We all look forward to bringing you more issues in the future, and to making improvements to our paper each and every time it comes out.
Wherever you as a reader may be in the future, whether it be serving in the military, studying at a college, or even climbing the ladder to fame and fortune, we hope you do not forget the power of a newspaper.
Through delivering up-to-date news, striking opinion pieces, and the talents and accomplishments of students, we have the power of words. The Stampede has given us every opportunity as a staff to be ourselves, and given you as a reader the opportunity to form your own thoughts and opinions.
 So therefore we ask you not to forget to be offended, be informed, be angry, be overjoyed, be opinionated, and wherever you are, pick up a newspaper every once in a while.