Softball team adjusts well to new head coach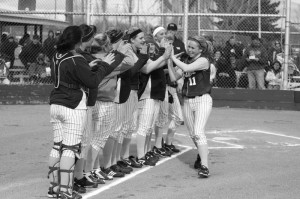 The CMR softball team has gone through a lot this season: a perfect game by pitcher Alissa Keeler, bipolar weather, and a near-perfect season putting them in the top of their conference.
Topping it all off, they have a new head coach.
"She stepped up to the plate really well, pun intended," junior outfielder Jenni Peer said. Coach Lindsey Graham, herself a four-time Rustler champion in softball, was assistant coach to and took over for Roger Spring.
"Coach Spring was a huge mentor [to me]," Graham said. Graham grew up "playing baseball with the boys" and doing Little League. Her dad was a coach and her brother is a baseball player.
 As coach, she has been leading the girls to victory all season with a record of 10-2 as of press time.
"She challenges us every day to make us better softball players," senior short stop Alex Lowry said. Graham has worked to improve all of the players' skills by filming them and reviewing the tapes to see what can be changed.
"[We do film study] then they coach each other. They can call each other out when they do something. It's like peer-editing," Graham said.
In addition, this year's seniors have worked especially hard to lead the team to success.
"[The] seniors have been taking leadership roles. I'm proud of them," Graham said.
Junior catcher Haley Rowe agrees.
"The seniors really stepped up this year with defense and offense," she said. Rowe is confident in her own abilities, as well.
"I'm a good teammate; I like to help our team and JV. I've improved my infield skills," she said. She's not the only one improving.
"In years past I was always used as defense and running. This year I'm making a name for myself. I'm not a power hitter, but I can get on base," Peer said. The confidence instilled in the players is most likely a product of Coach Graham.
"Coach Graham is doing great. We all love her as our coach," Lowry said. The feeling is mutual.
"It's been a pleasure coaching these girls so far. They're like my own kids," Graham said.