Billie Eilish: a new kind of artist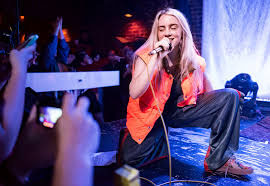 When you are feeling down, you listen to your favorite songs in order to cheer you up. 16 year old music artist, Billie Eilish, creates the opposite feeling through her music. Eilish is known for making music that sounds darker than most. Her newest single, "When the Party's Over," introduces a new type of shivers up your spine feel.
Starting off the song, Eilish introduces a love interest. This song is about separating herself from him. In the first verse, Eilish sings, "Tore my shirt to stop your bleeding," which implies she was willing to help this person no matter what the cost was. However, she follows these words with the phrase "But nothin' ever stops you leavin". This appears to mean that no matter what she does for this person, they will leave her lonely in the end.
Towards the end of the song, Eilish very clearly shows that her and her partner have officially ended things.It can be assumed that the other person in this relationship moved on quickly, while Eilish is having a very difficult time coping with the split.
Overall, this single could be one of Billie Eilish's most successful and motivational pieces.