For Mike Lathrop, it's about serving community, impacting others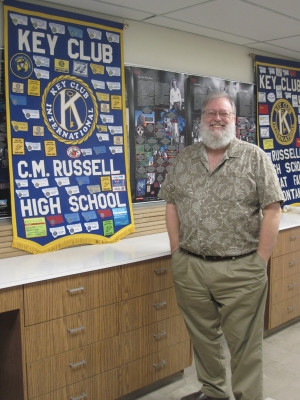 Contrary to the popular Marilyn Monroe song, diamonds aren't necessarily Key Club adviser Mike Lathrop's best friend. But they can be nice.
Lathrop's club has earned the coveted diamond level (an accomplishment only 60 out of 5,000 clubs in the world attain), multiple times over the years he has spent as an adviser. However, Lathrop treats this honor lightly.
"I worry that people think we're about awards; we're not," he said. "We're about doing nice things for other people."
After 14 years, Lathrop knows a little something about helping people. However, Lathrop wasn't always as active in the club.
When a student approached him and asked him to take the club over from a former adviser, he was interested.
"It wasn't the type of thing I would take on in name only," Lathrop said.
However, Lathrop was able to take a hands-off approach his first year as an adviser due to a highly competent board.
"She was so organized and such a good leader that I did nothing," Lathrop said of his first student president. However, when a new board was elected, that changed.
Lathrop trained himself, and then worked on training the officers.
"Now the club is so strong that I don't do that anymore," he said.
That leaves Lathrop with more time to focus on the service.
"It's all about doing nice things for other people. It's the service aspect of it."
One of Lathrop's favorite parts of the club involves talking with his students about projects.
"I truly enjoy having conversations with kids about what we can do to make the community a better place," Lathrop said. "What we can do to make the people whose lives are hurting hurt a little less."
Lathrop is careful when helping choose projects for Key Club, tending to focus on projects that will have the most impact on others. Of course, choosing projects that give him a chance to barbecue are always a plus, Lathrop said, adding that he gets a thrill from barbecuing.
"There's something about coming to a barbecue," he said. He likes to think that event attendance at things like the March of Dimes March for Babies has grown due to Key Club providing a barbecue at the end.
However, Lathrop wants to branch out on the types of projects Key Club offers.
A previous president had connections to local nursing homes, so members went to the homes to talk to residents.
"Knowing that these people had somebody to listen to their story…it's how we carry [their] stories," Lathrop said.                
Lathrop also hopes to expand Key Club service to include young children.
"I'd like to see the kids get more involved with little kids," Lathrop said, adding that when teenagers spend time with younger children, they become anchors for them.
Despite desiring to branch out, however, one of the projects that made the biggest impact on Lathrop occurred right in the CMR building: helping with fundraising for secretary Lillian Senne after she was diagnosed with breast cancer.
"That the students she works with care about her, that's huge," Lathrop said. "Can you think about anything bigger?"
After a decade and a half at the helm of one of CMR's largest clubs, Lathrop is happy to have the chance to volunteer with the community and students, and says that he loves his job and working with Key Club.         
"I really feel like I'm the most blessed person in the world."