Senior prepares for welding career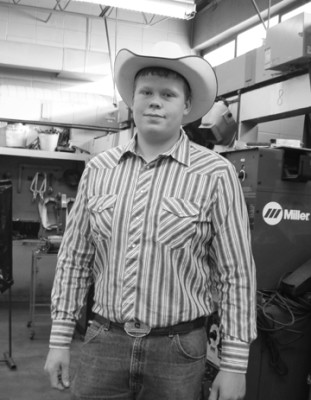 Many high school students are unsure when it comes to choosing a future career, and even if they have one in mind they often don't take the initiative to work towards that goal. C. M. Russell High School senior Zackary Brown is different.
Brown is planning on pursuing on a career in welding, which he has been involved in since his freshman year. He has taken three welding classes at CMR and is currently taking one dual credit welding class at Montana State University-Great Falls College of Technology (COT).
Brown was attracted to welding by the "hands-on" aspect about it and soon found he had gotten "good at it."
Brown recently competed in the MSU-COT regionals on March 11, where he received first place in stainless and mild steel, GMAW, SMAW welding.
"I won a 250 Pearl Esab," he said. A 250 Pearl Esab is also known as a wire feed welder.
Brown said he enjoys the hands-on experience about welding and believes it's a good job and "a trait that's rarely used."
Brown is considering attending college for the trade at MSU-COT in Great Falls