Hodges tackles pottery in independent study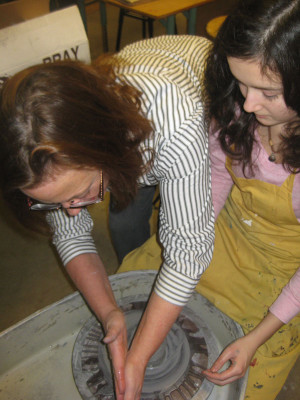 "Just remember, you're smarter than the clay," art teacher Tess Jacobs said. "Keep trying, you'll get it."
                This is the best advice that Jacobs could give junior Maggie Hodges during her independent study where she will be working towards throwing "the perfect bowl."
                Jacobs, who has some spare time after A lunch and before B, has allowed Hodges to take an independent study in her room, where she will have the opportunity to work in different art medias throughout the year.
                "I trust her and trust that she wants to learn," Jacobs said.
                After searching for something new and challenging, Jacobs discovered pottery making three years ago. She developed an interest in it and encourages Hodges to experiment with it as well.
                Like Jacobs, Hodges discovered pottery making a few years ago after volunteering at Paris Gibson Square Museum of Art,  andshe took classes for it during eighth grade.
                "I like working with my hands," Hodges said.
                After starting her independent specifically for photography, Hodges realized that she wanted a break, and working with clay was her first pick.
"What I like is that you don't have control over the final product," she said. "It's your skill, but ultimately it doesn't matter how good you are."
While Hodges enjoys the freedom of designing her own problems and coming up with solutions, she said independent study can also be difficult.
"I thought of myself as someone who could work by myself and hold deadlines," she said. "But it's hard to stay motivated every day."
Although she has enjoyed her time working with clay, Hodges said she will switch back to photography soon, as it is more prominent in her future.
Ultimately, Hodges looks towards a future in art education or photography, butshe  said her time in independent study will help her with time management in her upcoming endeavors.
"When I'm done with a project I feel proud of myself," she said. "I did it all by myself and it was all my ideas."