New class provides learning opportunity for students aspiring to become engineers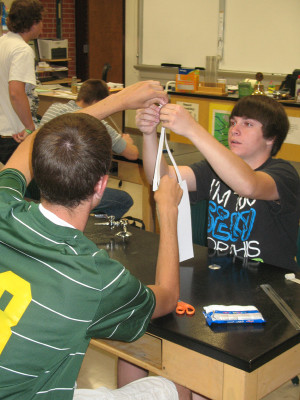 Senior Nick Allison destroys his project, ripping it up in disdain. "It's over, it's over!" he shouts as he tears apart a measly piece of paper.
The paper tower he was building was for a teamwork building project Allison, a senior, was taking part in during the new engineering class.
The Introduction to Engineering course is a 7 a.m. course this year that Mike Lathrop teaches for students who are interested in pursuing a career in engineering, construction, business, or design. Lathrop plans for the class to be a project-based learning course. He said hehopes this course provides the opportunity for students to develop the skills now that they will need for their future career.
Lathrop said students planning on going into engineering need the kind of background the class will provide; he also hopes to provide skillsets that will benefit a variety of students.
Depending on the field that they're interested in, Lathrop said he plans to tailor the course for individual students.
"It's not going to be a one size fits all kind of course," Lathrop said.
This is good news for Allison, who said he joined the class to get a deeper understanding of what it takes to be a civil engineer.
"It shows you where you need to be for the classes and skillsets you need," Allison said. "I want to see what I'm going to be getting myself into for the rest of my life."
Allison recognizes that Lathrop hopes for him to attain exactly that.
"His goal is to not give you busy work. He makes sure everything has a purpose," Allison said.
Another aspect he enjoys is the people he gets to take the class with.
"It's nice to see where everyone's plans are beyond high school," Allison said.
While students' plans vary as much as their interests, Lathrop plans for the class to collectively study how to work and communicate with people, make an effective PowerPoint, apply mathematics, science, and engineering to problems that range from everyday life to proposing a swimming pool for the school.
Lathrop understands that this process can be challenging.
"I want these guys to understand, if they fail miserably that's OK. That's learning," Lathrop said. "I would like perfection. I believe in perfection. I don't demand perfection."