Cubbage takes on challenge, trains pet parrot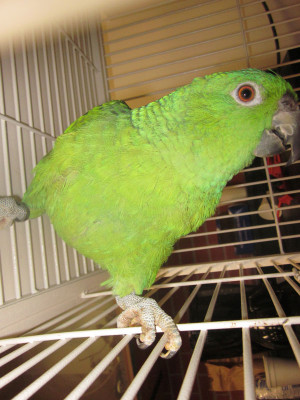 If you thought starbursts were the biggest contradiction in your world, try heading to a room where "birds can't talk."
"He picks up words when he wants to. Repetition and patience is the key," biology teacher Tom Cubbage said.
When Cubbage's friends moved, he decided he had no other option than to take on the challenge of caring for their pet parrots, and years down the road he even took on raising those parrots' child.
According to Cubbage, there are many difficulties that come along with raising parrots.
"He can be really noisy. Keeping him from screaming is tough. He bites hard," Cubbage said.  
However, Cubbage said there are also many unique abilities that parrots have in comparison to other birds.
"He picks up human language. It's cool that he says different words," Cubbage said.
Kevin, Cubbage's parrot, is able to speak a variety of words, such as "hi," "hello," "good bird," "hi Kevin," and "here Callie (Cubbage's pet dog)."
Cubbage hopes in the future that he can even train Kevin to say "birds can't talk."