Haiku Madness: Comstock vitalizes poetry
Writing poetry is an opportunity for learners to articulate their thoughts in a creative and expressive way. The benefits of this form of writing are extensive, but most wouldn't describe it as riveting. One teacher at CMR found a way to buoy up excitement for poetry in his classroom.
For the last five years, English teacher Jeremy Comstock has hosted "Haiku Madness," a poetry contest that is designed to replicate the elimination style of the NCAA Men's Division I Basketball Tournament known as "March Madness."
"I wanted to celebrate March Madness and make poetry more fun for people," Comstock said.
Each year, Comstock creates a bracket for each of his classes that gives every student a chance to participate. Then, he gives the class a subject or a picture to write a haiku about. Once all of the haikus are collected, they are read aloud for students to judge and select the winner of each match. The winner moves on and the loser is out.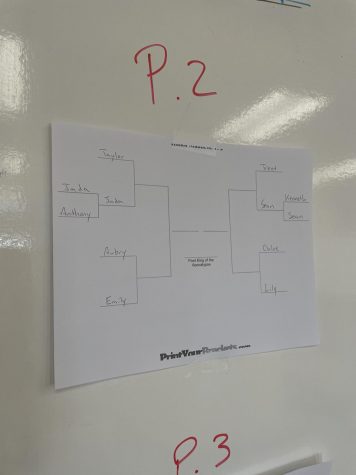 Excitement builds as the matches progress, and Comstock said that some students engage in activities outside of the set rules for the classroom contest.
"Charlie Chabot paid James Jackson $20 to lose on purpose," Comstock said. "The funny thing is Charlie ended up losing anyway and James had to return the money."
In addition to the deals struck between student competitors, the contest also offers prizes for the winners.
"I always have fabulous prizes," Comstock said. "One year, I had sombreros with vinyl embroidering."
This year, poets are shown pictures of nature and are tasked to describe the scenes in the "five, seven, five" haiku format. Some of the poems are serious, but classes more often prefer humorous poems as winners.
Comstock has yet to determine the exact nature of the prizes this year, but winners will likely don a Covid-related sash and a crown.
"I'm thinking about sashes that say 'Poet Emperor of the Apocalypse,'" he said.