Early mornings and pep overload, no caffeine needed
Hang on for a minute...we're trying to find some more stories you might like.
There's a certain hush early in the morning, usually before the first light comes up in the sky, that brings a sense of peace… that is unless you're waking up at this time to rush to a 5 AM practice like the Wranglers or cheerleaders.
Because the CMR fieldhouse is so overbooked between sports and events after school, Wranglers hold two of their three weekly practices from 5-7 a.m. on Tuesday and Wednesday, and when pep assemblies lie on the horizon, it really becomes crunch time. The cheerleaders feel this pressure, too, practicing 4 times a week to wow the crowds.
"We put a lot of hard work into our routine," sophomore Bette Ouellette said. "I'm really proud of our routine; we hit everything we wanted to hit."
Oullette said that the work cheerleaders put into their routines really starts long before pep rally.
"Our first pep rally routine starts when we go to a Kansas State cheer camp in Helena [during the summer]" she said. "They give us a routine and choose music for us. Then we practice from then on."
Senior Leeanna Schearer agreed.
"It takes quite a while do get the performance done," she said. "There are a lot of pieces that go into it. Then we start our winter pep rally right after the fall one."
Schearer said that the week of the pep rally is the most stressful part of performing.
"The stress leading up to the day is the hardest part," she said. "There's a lot of adrenaline."
Ouellette agreed, saying that stress is paramount leading up to the performance, and that being in front of the entire school is an experience in and of itself.
"It was really nerve-wracking at first with everyone watching," she said. "Once you get on the floor, you know you just have to out there and do your best."
She said that the payoff is worth the adrenaline, though.
"At the end of the performance we were all really happy to be able to complete it. We all put in our best work."
For the Wranglers, pep rally is simultaneously stressful and fun as well.
"We start with choreographing and teaching the dance," junior and captain Jillian Painter said. "We go over the dance a million times, and then have tryouts and clean the routine to get it perfect."
Painter said that the Wranglers had originally planned on picking a different song for their pep rally performance, but the song they chose seemed too perfect to pass up on.
"We took a group vote and all ended up really liking the song we performed to," Painter said. "We all thought it would really pump up the crowd and get everyone excited for the game on Friday."
Painter said that pep rallies are different than regular games for several reasons.
"In the Thunderdome, everyone's a lot closer than at football games, so movements have to be a lot sharper," she said. "On a football field, it's not as big of a deal if you mess up. Plus, the entire school is there watching. There aren't that many people at basketball games."
Freshman Kayleena Logan echoed Painter's sentiment of being watched by the entire school. This year is her first as a Wrangler, and her first time in a pep rally as well.
"It was really fun, but scary," Logan said. "Everybody's eyes are on you."
Logan said that she didn't mind the extra work that goes into preparing for a routine in front of the whole school; she loves being a Wrangler and her teammates.
"It feels like family," she said. "The most rewarding part is performing with a team that feels like family."

About the Writer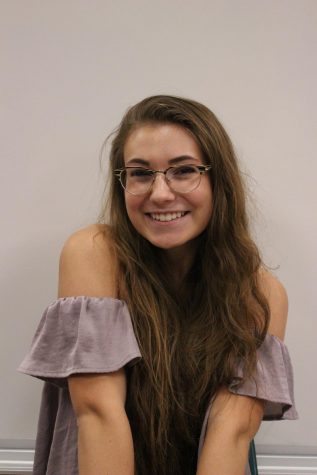 Quincy Schmechel, Editorial Board
Howdy! My name is Quincy Schmechel, and I'm a senior this year at CMR. I have been a part of the Stampede staff for three years now, and am excited to be taking another editorial role this year as writing and grammar editor. I love the English language and sharing my passion with others, and...