A home away from home: the stage
Since the age of two and a half, Sadie Sangray, an eighth grader at East Middle School, has been an avid dancer. By joining the competitive dance team at the age of 8, Sangray immersed herself into the world of dance and everything it has to offer. 
"My biggest accomplishment has probably been being able to get out of my shell and letting myself grow as a dancer. I used to be really quiet, and I wouldn't dance to my full potential because I wasn't very confident. But now I am," Sangray said.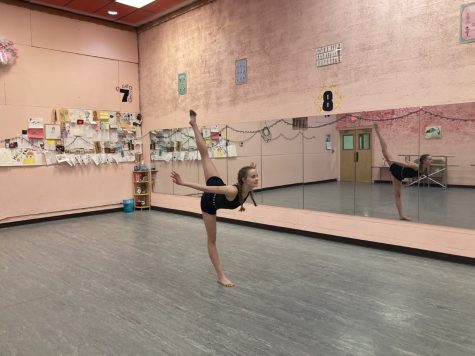 Sangray uses her dance studio as an outlet from the outside world.  
"I really like how I can go to dance and let myself be happy while at dance," she said. "If I have a bad day, it helps." 
The dance season leads up to a series of performances that Sangray has been working on all year. 
"Usually I just tell myself something like: 'just do your best and call it good.' I think that a lot before I go and perform," Sangray said. 
While Sangray's sport proves to be rewarding, she still faces complications. 
"My biggest challenge is not getting frustrated with myself when I mess up the slightest thing or can't get a move down. I can be very hard on myself while dancing, so trying to stay calm is a challenge."