School board candidates speak out at public forum
Seven of the eight candidates for the Great Falls School Board gathered April 19 in Benefis Healthcare's Cameron Auditorium to answer questions and introduce themselves and their views to the greater community.
The event was sponsored by the Great Falls Tribune and the American Association of University Women, or AAUW. Journalism students from C.M. Russell High School and Great Falls High School prepared and asked questions of the candidates. CMR junior Katie Hodges moderated the event.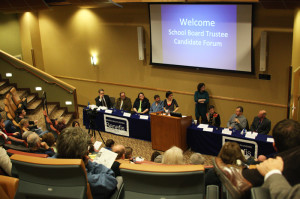 Seven of the eight candidates who are on the mail-in ballot for the May 3 election were at the event. Candidates are: Randall Hand, a finance officer for Cascade County; Audrey Finlayson, a program director for the Cascade County Retired Senior Volunteer Program; Bob Moretti, an adjunct professor with the University of Phoenix; Mary Sheehy Moe, a retired teacher and higher education administrator; Jan Cahill, a current board member and executive director of the Great Falls Animal Foundation; Eric Bakly, a claims analyst; David Sculer, a retired U.S. Coast Guard officer; and Johnny Walker, a retired investigator with the Department of Homeland Security. Walker was unable to be at the April 19 forum due to a family medical emergency out of state.
The candidates were asked about many topics, including the curriculum, use of technology in schools and the $998,000 mill levy that appears on the May 3 ballot.
Schuler and Bakly told the audience they do not support the mill levy, while Moretti, Moe, Finlayson and Cahill spoke in favor of the funding. Hand told the audience that he chose not to answer the question, as his vote for or against the levy is private.