Collaboration between art and theater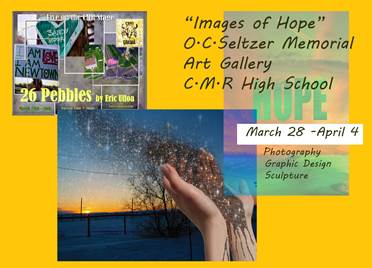 The CMR Art Department is joining the Drama Department for the upcoming play, 26 Pebbles.  The collection is called "Images of Hope" and will be showcased in the O.C Seltzer Memorial Art Gallery.
Take a look at students' artwork before going into the Bill Williamson Auditorium to watch the performance.  The play is from March 28 – 30.  The art display is from March 28 – April 4.
Doors open at 7:00 P.M. and curtain is at 7:30 P.M.