Quarantine comfort films: Normalcy mixed with dread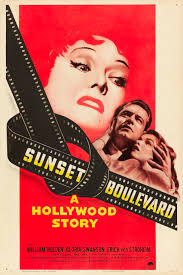 Throughout the pandemic this spring, stuck at home, alone with my family, my phone, and movies, I've found it necessary to seek out media that provides a mental state of normalcy. A space that allows me to visualize a normal world, movies and TV that are social in nature, full of intimacy, thrill, and movement. I've watched 64 films in all of this (truly a testament to my boredom). Three have stood out as tangential to the present situation of this new world, but also as reminders of the state of the world before coronavirus.
Sunset Boulevard
Released in 1950, this noir from director Billy Wilder details the relationship of scorned silent film star Norma Desmond (Gloria Swanson) and screenwriter Joe Gillis (William Holden). A commentary on the isolation of stardom, the film largely takes place in the world of Desmond's fallen palace in the Hollywood Hills. Rarely leaving, Desmond is confined out of resentment of the "New Hollywood." This seclusion is all-encompassing, driving Desmond to insanity and tearing down those around her. It is in this space that Sunset Boulevard brings comfort. The all-too-familiar nature of being alone with one's thoughts and regrets is prescient in this time of quarantine. However, it is the setting and tone of the film that makes it the correct combination of elements for this situation. Sunset Boulevard is a fantasy, one full of gaudy glitz and facades, fleeting interactions of lovers, and a real undercurrent of the dark and unknown. These elements remind me of the normalcy of life, even if the film is tragic.
Perfect Blue:
Much like Sunset Boulevard, Perfect Blue is an encapsulation of fame and the natural separation that occurs when individuals experience it. This makes my list as it is the blueprint for the type of media I am identifying as perfectly situated for where I'm at in life. From director Satoshi Kon and released in 1997, the film details the stalking, nightmares, and violent surroundings of pop idol Mima. Incredibly atmospheric and containing sequences which can only be annoyingly described as "trippy," Perfect Blue is a horrifying film (not scary, but gut-wrenching and dread inducing). This film makes the list for many of the same reasons Sunset did, but explores the nature of human sociability to even greater depths. Full of stunning concert sequences, Japanese streets, dark hallways, and business meetings, Satoshi Kon inadvertently created a world that is reminiscent of the one lost to COVID. Albeit it is a darker world, but containing familiar and comforting elements. The best reason I can give to watch this film now is its consuming nature. Boredom truly evaporated after the credits rolled; I spent hours reading theories about the third act, watching video analyses of the final shot, and studying the color choices.
The Talented Mr. Ripley:
A true comfort (sort-of) recommendation, The Talented Mr. Ripley (1999) dir. Anthony Minghella, tells the story of Tom Ripley (Matt Damon) and his scheming around coastal Italy with rich socialites played by Jude Law, Gwyneth Paltrow, Philip Seymour Hoffman, and Cate Blanchett. Ripley starts as a "simple misunderstanding" and evolves into a murderous and thought-provoking psychological thriller. A bait-and-switch that employs the charisma of the A-list actors and incredibly scenic landscape of the Riviera, halfway through it reveals something far more complex. The Talented Mr. Ripley touches on elements of Sunset Boulevard and Perfect Blue — robust social interactions, sensation, and near-normalcy — but also steers towards a deeper exploration of the human psyche. If nothing else, Jude Law's beach cottage and yacht are enough to warrant a fantasy watch.
In thinking about the types of things I am watching while at home, it became obvious that the best and most fulfilling media I have consumed is often imbued with a sense of dread. This sentiment, on further analysis, is probably related to a personal feeling of the same emotion. However, a veneer of convention and beauty is layered on top of this dread, creating a mixture of elements that appeals to my better memories.