Drama department debuts "The Star Spangled Girl"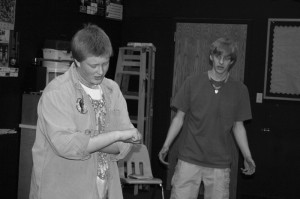 If Kyle Wood had to offer a short promo for the upcoming play it would be: "I like the way you smell."
Wood, quoting from this week's production The Star-Spangled Girl, is one of only three students starring in the Neil Simon comedy.
"Following American Roulette (the last drama production) we wanted to do a comedy," Wood said.
Juniors Drew Sorrusten, Kyle Wood,  and senior Aly Hutchinson are starring in the play coming out today and runs through May 7. Admission is $6 for students and seniors and $8 for adults.
Wood first got into drama because his sister had been and he had, at that point, not found an extra-curricular activity.
Wood further added that because the play has already been performed across the country, (the previous play American Roulette being written by drama teacher Chris Evans) it was an easy choice to be the next production.
"It's basically a story about two hippies, they're brilliant students at Dartmouth who publish a protest magazine. But, to mix things up a beautiful Olympic swimmer who's sort of the Fox News type, moves in next door to the hippies and peculiarly one of the hippies falls in love with her based on her smell," Hutchinson said. "There's another twist, though. The girl likes the hippie who doesn't like her even though she has an eight-foot boyfriend. It's basically a love quadrangle,"
The play is certainly a different play from any performed this year.
"This play is unique because it's so darn funny; it's not a deep thinking play," drama teacher Chris Evans said. "Imagine Fox News and MSNBC as boyfriend and girlfriend. The play was written in the 60's but you can still see some of the political arguments we're having today."        
Such a convoluted plot naturally requires a lot of forethought and practice.
Wood said the most difficult part of preparing has been memorizing lines.
"The lines are all pretty dependent on each, and we all rely on each other," Wood said.
As the last play of the year, "Star-Spangled  Girl" holds special significance for senior Aly Hutchinson.
I had surgery the week before the show, and it's going to be pretty difficult running around the stage on Thursday," Hutchinson said.
Hutchinson added that while "it's nice that we get class time," it's still pretty stressful.
Evans, however, feels that all the work is worth it, "It's just a funny, funny, play and even though I've seen it several times it still makes me laugh."
"I've got three of the hardest workers, it's very rare to see any of them without books in their hands," Evans said.
While her time with CMR Drama is nearly at an end Hutchinson, is sad but optimistic.
"I'm excited to go to college, but I've been in every mainstage show since I started; and I'm really going to miss the people."