Key Club, community members reflect on year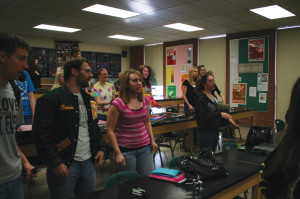 Rather than spending time with friends or going to a movie, dedicated service is what brings a sense of happiness to senior Echo Klassen, the president of Key Club.
"I'm all about the service projects. Knowing that I have helped someone puts a big smile on my face," Klassen said. She has tallied 600 hours of service since freshman year.
When Key Club adviser Mike Lathrop announced that the CMR club had entered the Diamond Level, all their hard work had paid off. The Diamond Level recognizes the top Key Clubs from around the world. That honor was for the 2009-2010 year.
According to Key Club International, in order to attain this honor a Key Club must have the highest level of service in their community and school, while focusing on caring, being a leader, building one's character, and inclusiveness, which are their core values.
Receiving the Diamond Level is not the only thing they have to be proud of, however. According to statistics from Lathrop from February 2010 to January 2011 the club members have voluntreered a total of 2,904 hours, 148 of those during the summer. They have also donated $4319.14 to various organizations like March of Dimes and UNICEF.
"I feel proud of all that we have accomplished as a group. This club has worked so hard this year. They deserve to be on top. I am proud to be a representative of this fine club," Klassen said. "It's awesome seeing so many people come together for one common goal – that is to help others."
"It is good to see that so many people care about others and their needs, and not their own," she added.
Like Klassen, Lathrop said the club deserves this award.
"It's a sign of how great the club is and how hard students work," Lathrop said. "It shows the love and dedication they have."
Lathrop has plans to continue being in the Diamond Level next year.
"(We have to) find projects that are meaningful to students and helpful to the community," Lathrop said. They also have to recruit members and find new projects to do, he added.
Key Club is always in search of new members.
"Students are welcome to join at anytime," he said. "(We have) something to interest everyone and what they like to do."
"It's all about the service," he added
CMR Key Club has devoted more than  2,904 hours so far this year in service work around the community.
One of the many organizations with which the CMR Key Club is involved is the Boys and Girls Club.
They have helped at various events, including the annual Thanksgiving dinner, Lights on After School seminar, and the Christmas party, Boys and Girls Club supervisor Nicole Hammar said.
"It's always nice to have older kids from the CMR Key Club come and help out and have the whole Big Brother/Big Sister thing," Hammar said.
Hammar also said that having teenagers from the club around gives the children "someone to look up to" and "shows them that they can still be involved in the community when they're older."
Key Club is also very active within CMR. Principal Dick Kloppel said the Key Club has worked hard within the school providing snacks at Homecoming float building, participating in the school clean-up multiple times, helping with food and clothing drives, and initiating the Teacher of the Month program.
"They just show up whenever a job needs to be done. They do it and leave," Kloppel said of the CMR Key Club. "They don't do it for the recognition. Key Club truly is a service organization. There would be a real mark of difference in climate and community service if our Key Club wasn't what it is," Kloppel said.
 The Key Club also contributes their time and energy at the Children's Museum of Montana. They have been involved with Night at the Museum, Chocolate Noir, and other maintenance and building events, according to museum supervisor Sandy Wright. They also assist with cleaning, working directly with the children, and painting.
"Key Club has definitely helped in a ton of different ways," Wright said. "They've helped us make the museum a better place The CMR Key Club is great. We're very lucky to have them."