Dedicated volleyball player slips up on dive during the final game
It's at the end of the game, you're up by seven points and you go for the final dive to end the game — and then in an instant you feel your knee pop out of place.
Freshman Sarah May had this experience playing volleyball in seventh grade.
"I always have played volleyball, but I couldn't anymore," May said. She and her teammates were in the final two for the brackets and she went in for a dive and landed straight on her knee. After the accident, she had to cut the season short and she hasn't played since.
"When I had to quit for those two years, I totally lost it all," May said. But instead of playing, she was a scorekeeper.
"Yeah, I did want to play in high school, but I knew I wasn't good enough to make it," she said. Instead of playing for the CMR team, in February of 2012 she is going to play intramural. Intramural is a "just for fun" game where you get to pick who is on your team and it isn't too serious.
"When I was little I played for Heisey," she said. She played every position before she got into middle school. But once she got into middle school she started playing middle back, which was her favorite position to play. Her weakness in volleyball is serving.
"I was horrible at serving,"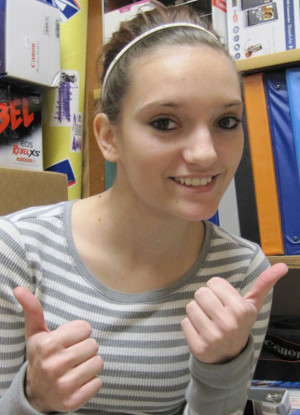 May said. She said that she likes underhand serving a lot better than overhand serving.
"It was my life and I had to just quit."