Family, friends, fun, Trainer's way of life
From seven o'clock at night to seven o'clock in the morning, freshman Crystal Trainer grabs her skates and heads out.
Trainer attends the skating nirvana and is fatigued when done.
"When I get home, I'm super tired," she said.
A native of Great Falls, Trainer has gone roller blading ever since she was 5 at Hauer's Roller Rink — as long as she had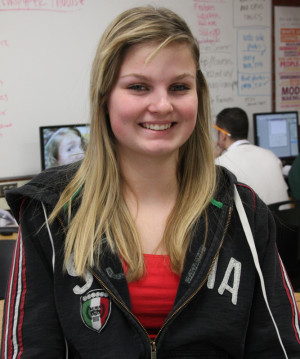 nothing lower than a D in any of her classes.
"It brings me closer to hang out with friends," she said.
Rollerskating is not the only big part of Trainer's life; she also goes hunting, camping, and fishing with her dad.
"He taught me how to fish and hunt," she said.
Comparatively speaking, the biggest part of her life is her mom's day care.
"I'm around kids all the time," she said. "It's insane, but I love it."
Trainer's mom owns Rewards Daycare, where Trainer spends most of her time other than the roller rink.
"I would be really bored if my mom didn't own a daycare," she said.
Trainer spends her days preoccupied doing homework for skating and watching over children with her mom or hunting with her dad.
"It's a big part of my life," she said. "I would be really bored if my mom didn't own a daycare."