Finding happiness in every aspect of life
The sound of roaring laughter fills the empty space as soon as Emily Sowell walks in the room.
 "I like to make people laugh," she said.
Sowell, a freshman, was born and raised in Great Falls. Sowell has three brothers, two of whom were adopted into her family. Her dad works as a police officer while her mom just made a job change. All of her life her mom has worked as a social worker, but she now holds a job at Job Services.  Living a life different from most other teens has given Sowell a different view towards life.
"I didn't grow up different, just a different environment," she said.
Sowell's adoptive brother, Michael, has grown up with the challenge of living with developmental disabilities. Life at home can be hard to deal with sometimes, she said. She tends to be smiley and happy even when times get tough.
Sowell has seen what few have found in the world: happiness in every moment. There is so much to be happy about in the world. Her motto towards life is, "once you learn how to be truly happy, you won't tolerate anything less."  With these words she never leaves a day sad.
"Parents have a lot more insight than we give them credit," she said.
Her dad is her best friend, and having him as a role model has had the biggest influence o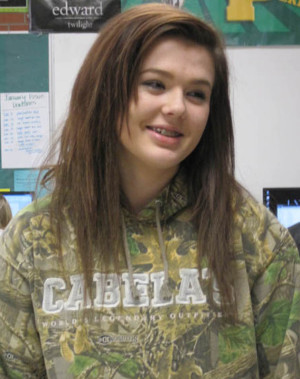 n her life. He taught her to smile through the tears and find something to be happy for every single day, she said.
"There are too many good things in the world to be anything but happy."