Getting involved in music opens opportunities for Tanner Gliko
Music isn't something you're born with, but for Junior Tanner Gliko it is a passion he has loved for a while.
                  "I started to play when I was a little champ," Gliko said.
                  Gliko said he has been fond of music ever since he was a kid, but he didn't get into music until he was 10. Gliko's favorite hobby in and outside of school is "just music in general." Gliko plays drums most of the time, and he also plays guitar and wants to learn piano. He also said it would be cool to have piano in his musical expertise.
Choosing an instrument wasn't really an option. Drums chose Gliko.
"Because my dad played guitar, I would play drums with him," Gliko said. "It was hard growing up playing county music and then listening to all this hip-hop and rap music."
At C.M. Russell High School, Gliko is involved in Symphonic band, Jazz band, Pep band, Drum line, and All-State. After college he wants to be "the next Kellogg," Gliko said. Russ Kellogg directs the band program at CMR.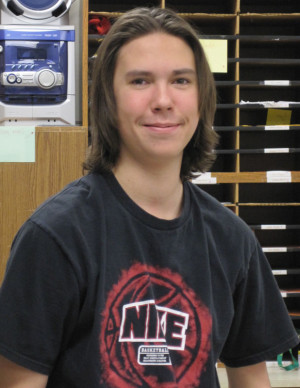 His inspiration is Daniel Bukvich, a well-known percussionist.
"He's taught me most of the valuable lessons I've learned in music," Gliko said. "It's called playing for a reason. It's all about playing."
"It's hard passing up something you love."