Halvari cultivates interest in yearbook
Capturing every little moment is what Brittani Halvari enjoys about yearbook class.
"We take pictures of people and get to know people better," Halvari said.
A freshman at CMR, Halvari said she likes to be involved in her school in a different way than many expect. She was looking at the election form when she saw yearbook and thought it would be fun to take the class.
Taking pictures and designing the spreads is the favorite part of yearbook for her.
"I am scared to interview the seniors because I think that they will be mean to me," Halvari said.
While designing the yearbook, staff members must write stories about people and in order to do that they have to interview them.
"When I am a junior or a senior I hope I will be able to be Editor in Chief, Photo editor, or Design editor," Halvari said.
When a freshman and a sophomore you are only able to be a general staff member, then when a junior and senior you can interview to be one of the editors. Halvari said she wants to become Editor in chief, who is in charge of the publication, and they have their own special page and come up with the design along with the juniors.
Halvari said she w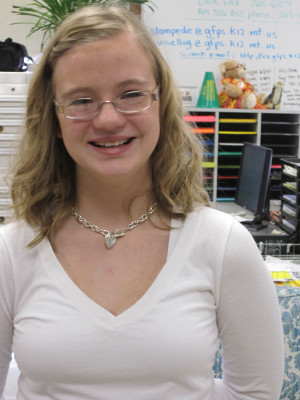 ould like to maybe become a journalist for a newspaper or a magazine after high school.
"I am planning on taking yearbook and newspaper throughout high school."