Montana provides freshman with infinite possibilities for memories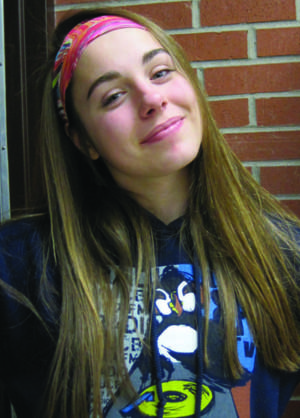 The Big Sky Country has created many great memories for Olivia Rudio over the years.
"I love the western area of Montana," she said. "It's beautiful. I love being there."
Three years ago, Rudio's family purchased a cabin in the Bigfork area, which opened the door to a wide array of opportunities to have fun during the summer and long breaks during the school year.
"I have had the best times there," she said. "Skiing, wakeboarding, tubing and surfing. It's just a blast."
When winter comes, most Montanans flock to the slopes of their favorite skiing spot and make the powder fly.
"I don't ski too well," Rudio said. "But I like to do the land-lock surfing and wakeboarding."
In the summer months, Montanans leave for the nearest lake or pool to have fun in the sun.
"I love swimming and playing out on the lake," Rudio said.
She plans on getting her boater's license so she can pilot the family's boat all over the lake, but for now she will stick to swimming.
When Montanans have cooled off at the lake or pool, most decide on a road trip of some sort, whether it is to go to the state's two national parks or go sightseeing.
"I would love to travel," Rudio said. "But I don't get to do it a lot because my parents like to stick around Montana. But we get to see a ton of our family, [and it] is real nice to visit with them."
"I think Montana's a great place to grow up," she added. "But it would be nice to live someplace different after high school."
Rudio goes with the flow of things; she's not a planner. However, she has some hopes for the distant future.
"I definitely want to go into a writing career," she said. "A college somewhere on the East Coast would be nice, but I would go wherever they would take me, I guess."