New musician blossoms in high school
An up and coming musician, freshman Katelyn Smith has set her sights on greatness.
                  Smith said she is teaching herself to play piano, which she said is going "pretty good considering I play bells and mallets so I already have a start on note names and stuff." Smith said she draws some of her inspiration from her brother, Jordan Smith, who graduated from CMR in 2011.
"Kind of, he was the first of our family to really get into music. He taught himself guitar, drums, and piano," Smith said.
Smith is a 2015 class percussionist at C.M. Russell High School. She said she hopes to go to college and study music in Bozeman.
After attending college and earning a degree in music, Smith said she would like to return to her high school and teach music. She would prefer to take over for Dennis Dell, the CMR percussion instructor.
"I wanna come back here and do what Mr. Dell does, but teaching band would be cool," Smith said.
Smith said that her favorite part of percussion is "the variety, because the instruments create a lot of different sounds and feelings."
She said there are a lot of changes between elementary, middle, and high school percussion.
"In seventh grade you're in a percussion class, in eighth grade you're in a big band, and in high school you're in a percussion class again, so it's kind of confusing," Smith said.
Smith said that she enjoys playing in the Pep Band because "you have an excuse to be crazy."
"I like it because you're not only going to the games and cheering on the teams, but you're getting a musical experience and kind of getting help," Smith said.
Before she leaves Great Falls, Smith said she wants to do everything a percussionist could possibly do at CMR.
"I definitely want to get into Symphonic B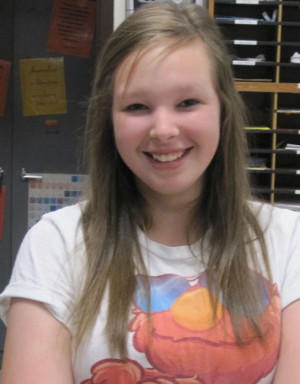 and and all-state. I wanna try out for drum major, and I wanna be drum captain, too. It's too much!"