CMR band director shares experiences in the classroom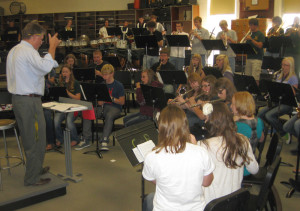 Who do you get when you mix a music education degree, a replacement job, and the need for some fast cash? You get CMR's own Russ Kellogg.
"I got into teaching accidentally. I had a degree in music education, and I needed to [make money]," Kellogg said. "I took a six-month replacement job teaching elementary music here in Great Falls Public Schools, and the teacher was out on pregnancy leave."
Kellogg, CMR's band director, has also taught in Preston, Idaho; Overland Park, Kansas; and Highwood. He's played in the Ringling Bros. Circus, the Temptations, with Ray Charles, Frankie Avalon, and in Kansas City as a freelance musician. He plays all the instruments in band, but his main instrument is the trumpet.
"I do give private lessons. I used to do it a lot more, but this job is very demanding time wise," he said. Like some other commuters, Kellogg gets up every day and cannot wait to get to work.
"I can't narrow it down to one great moment. I've been doing it this long and I look forward to work every day," Kellogg said.
Whether it's performing with some of the best musicians in the country or directing a rag-tag band of high schoolers, Kellogg said he finds enjoyment in his work everyday. Kellogg values the importance that teaching provides for staff as well as students.
"I think teaching is one of the most important jobs you can get," Kellogg said. "You have to help [the students] get through this part of their lives."