Alternative spring sports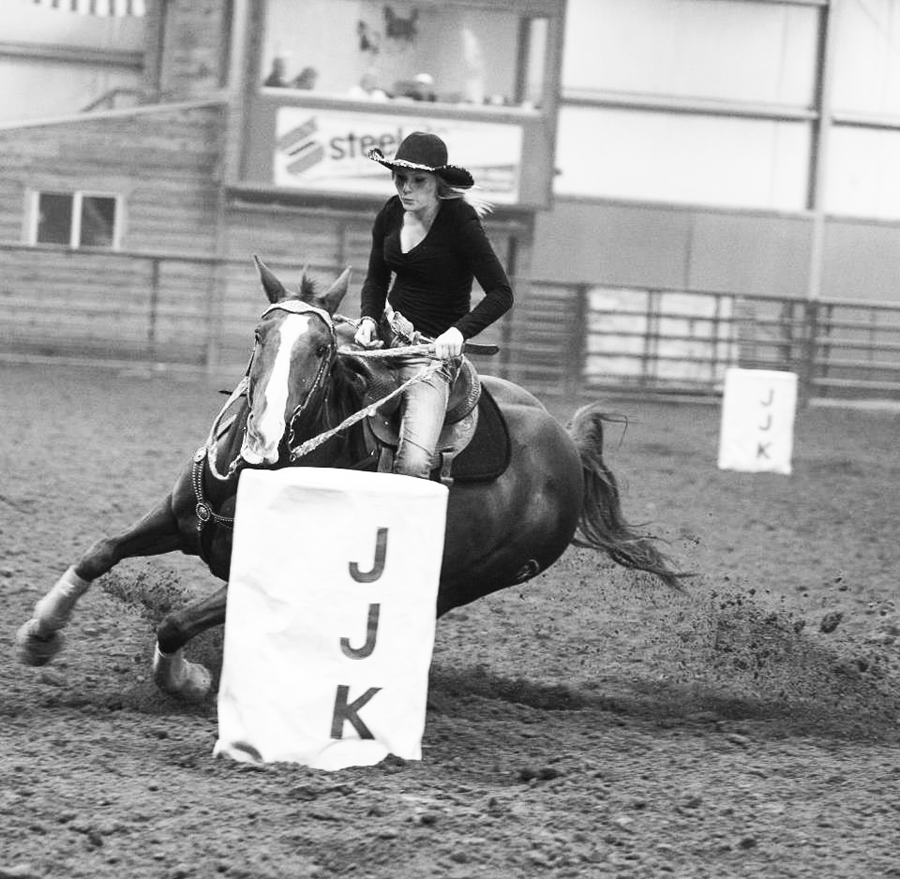 Tough work laid the way for junior Hunter Stoebe's favorite spring sport.
"I bought my first horse when I was 8 for $500 and had to scoop dog poop to pay for it; it turned out to be a bucking bronco and I gave it away," Stoebe said.
Stoebe barrel races, which is an extension of rodeo, and she trains four to five days a week for a 45-second race.
A barrel race consists of a single lap race around a clover-shaped track, and the rider can reach speeds of up to 45 miles per hour.
"Every lap is a different size," Stoebe said. "Every division is separated by a half of a second."
Because each division is separated by such a small amount of time, every second has to count, and working on the little things such as getting the horse to work its hind end can mean the difference between a win or a loss, she said.
"The little things are the things that make the 500th of a second count," Stoebe said.
Even when it's not rodeo season, Stoebe spends up to 18 hours a week with her horses.
"If you don't have the bond you don't have anything," Stoebe said. "In most sports people focus on themselves; in horse racing you need to become a team."
Stoebe's sister is the person who got her into rodeo, as she had gone to college on a full scholarship for the sport.  Stoebe qualified for the Montana state championship this year and last year, and she won a Halloween race in October.
"In the sports world people are out for themselves. In rodeo it's like a big family," Stoebe said.
Senior John Johnson is into a different kind of horsepower.
He races Wisota Street Stock Cars. According to Johnson, they are "actual cars" that include a full protective cage around the driver that is in accordance to the rule book.
"They're not tuned up, and are wired to the track," Johnson said.
Each race consists of eight laps, while events are 20 laps.
"Each lap doesn't take long, and we are usually finished before the noise curfew," he said.
Johnson reaches speeds of 70 miles per hour and between 40-45 miles per hour on the turns.
To Johnson, stock racing is more than a sport. It's a gathering for his friends and family.
"Everyone comes together with their family to have a good time, [and] we all have our own way of doing things," he said.
Johnson hopes to continue his passion for the sport after high school.
"It's what I love to do. I just love to tinker with cars," Johnson said.
Junior Ryan Millhollin prefers an environment much quieter than a race track. Millhollin fly fishes on the many creeks and streams Montana has to offer.
"It's very relaxing and takes your mind off anything. It's also so quiet," Millhollin said.
This time of year Millhollin finds himself using his favorite streamers — the wooly bugger and the bitch creek, on his favorite rivers: the upper Missouri,  the Madison, and Jefferson Creek.
"The season never stops — unless the water is too high," Millhollin said.
Fly-fishing is not the only sport Millhollin engages in.
"[It's] a good break from football. I fish the most in the mid-summer and whenever I'm not playing football," he said.
Millhollin was introduced to fly-fishing by his dad.
"My dad gave me his first fishing rod that he bought when he was 11 for my eighth birthday," Millhollin said.
"I love fly fishing. It's a part of who I am."